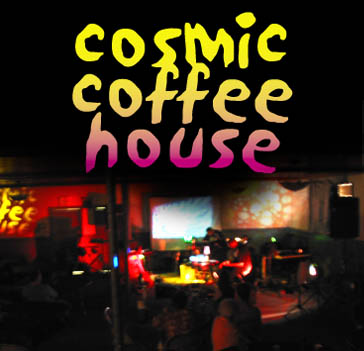 A continuing series of musical gatherings at the Crosswicks Community House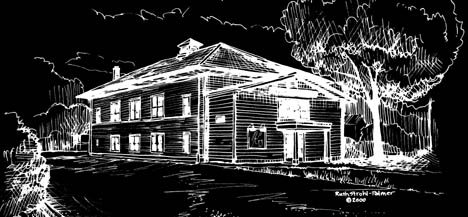 The Crosswicks Community Association and Ken Palmer
present the third season of live original music events,
downstairs in the Crosswicks Community House, 480 Main St., Crosswicks, NJ.

STAY TUNED FOR ANNOUNCEMENT OF POSSIBLE 2006 EVENTS... FOR A MULTITUDE OF REASONS AND CIRCUMSTANCES, FOR THE NEAR FUTURE THE COSMIC COFFEEHOUSE IS ON HOLD AS IT REGROUPS, REFORMS, AND (WITH ANY LUCK) IS REBORN. THANKS FOR THREE YEARS OF SUPPORT AND ENCOURAGEMENT!
...WE'LL BE BACK...

-
-
-
Saturday, November 12th, 2005:
A special CC alumni triple bill,
featuring the return of

Electric Diamond
(Don Slepian & Stuart Diamond)
www.electricdiamond.com
"Music Tolkien would have written had he used a piano instead of a pen."
-Christain Science Monitor
"A wonderful trip into the asteroids." -Variety
Don Slepian is an internationally known electronic musician, recording artist, and concert performer. Described by Rolling Stone magazine as "one of the genre's major talents." Stuart Diamond plays the Lyricon, an electronic wind controller that controls the dynamics of a synthesizer, turning it into an instrument of remarkable expression and power.
(Photos of Electric Diamond's November 2003 Cosmic Coffeehouse appearance can be seen here.

Doctor Cosmo
www.doctorcosmo.com
New solo instrumental works for MIDI Chapman Stick and sitar, as performed by WPRB-FM's most versatile late-night radio host.
(Photos of Doctor Cosmo's May 2004 Cosmic Coffeehouse appearance can be seen here.

and
Stares to Nowhere
www.starestonowhere.com
Stares to Nowhere make use of sound-- organic and otherwise-- in their music, much like Edgar Varies and Pink Floyd. The music is composed, performed and produced by Bill Fieger and Heather Lind, and is highly improvisational in nature. Described by many listeners as a soundtrack to a movie that doesn't exist, their music is ambient, experimental, electronic, tribal, and at times unpredictable, reaching from the ancient past out towards the distant stars.
(Photos of Stares to Nowhere's September 2003 Cosmic Coffeehouse appearance can be seen here.
-
Performance begins at 8pm (doors open at 7pm)
A PDF flyer of this show is available for download here. Print it out or email it to your friends! Spread the word!
-
The Crosswicks Community House will once again be transformed into an intimate venue to showcase these artists and their otherworldly musical visions. Settle in at a table for coffee, conversation and desserts, and open your eyes and ears to these imaginative soundscapes. Special mood lighting effects will also be featured to enhance the evening's spacey atmosphere. Directions here.
New low price: $5 admission at the door
benefits the Crosswicks Community Association.
(No advance ticket sales are offered for these events.)
NOTE: This is a "grown-ups only" event...PLEASE: NO CHILDREN UNDER 15.
No SMOKING or ALCOHOLIC BEVERAGES will be permitted in the Community House.
This is a series of "second Saturday" musical theme events featuring local talent. Most often under-appreciated, under-exposed, and below the mainstream's radar, this is their moment in the spotlight!
-
GET DIRECTIONS TO THE CROSSWICKS COMMUNITY HOUSE HERE.
-
Missed any of the Cosmic Coffeehouse shows?
View pictures and video clips from the performances of
9-13-03, 11-8-03, 1-10-04, 3-13-04,
5-8-04, 9-11-04, 10-9-04, 11-13-04,
03-05-05, 04-02-05, 5-7-05, and 9-10-05.
-Psst! Get your FREE 11x17 "print-it-yourself" Cosmic Coffeehouse poster here! (2.6Mb PDF file)-
If you are interested in performing at one of these shows, or have any ideas for a future event theme, please click here for more details.
If your friends think you're just a little bit weird, and/or you've been dying to perform live, but just haven't made that leap (or couldn't find a receptive venue), we have the perfect home to showcase your unique artistic quirks! (Don't hesitate...contact us today)
Space for this site has been donated by Brainstatik.
Support your local independant musicians!